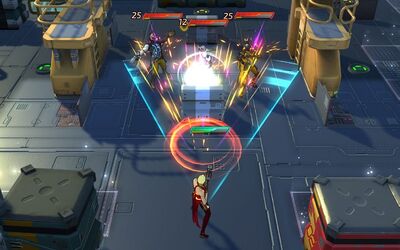 Objects and walls on the map are considered to be
cover
Cover
Standing behind cover provides 50% damage reduction from damage coming from the other side of it
. A
Freelancer
directly behind
cover
Cover
Standing behind cover provides 50% damage reduction from damage coming from the other side of it
reduces the damage from attacks coming from that direction by 50% (though some attacks are only reduced by 25%). Cover is granted against attacks coming from the front of the cover and roughly 45 degrees to either side. Protection is not granted against attacks from the square on the opposite side of the cover.
Walls
Tall cover or walls can also serve as cover and often can also serve to avoid attacks altogether. As with regular cover, attacks that hit a Freelancer from within 45 degrees to either side of the cover confers the damage reduction. As the walls also block vision, they also block most attacks and projectiles. This means that they can be used to deny enemy Freelancers the opportunity to attack in the first place. Clever positioning around walls and cover can allow a Freelancer to attack another while avoiding being exposed to the fire of more than one or two enemy Freelancers.
Indicator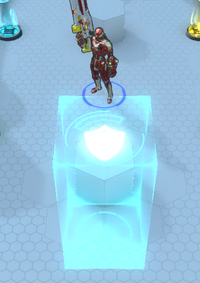 When planning where to move during the
Move Phase
it is important to consider your cover options. If you want to know which spaces provide cover simply move your cursor over them and if it is a space that provides cover it will give you an indicator showing you which direction it provides cover from.