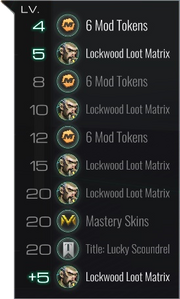 Freelancer Levels are a
Freelancer
specific progression system, which allows the player to level up each Freelancer individually, earning rewards specific to that Freelancer as the Freelancer Level increases.
EXP
earned from finishing matches (sans
Mission
EXP) also apply to the Freelancer Level, and is the means with which a player increases a Freelancer's level.
The EXP requirements for each level is N*1000 where N is the next level in the progression, for example; 5000 for level 5 and 6000 for level 6.
Level Progression
Rewards for Freelancer Levels are given at regular intervals as the Freelancer's level increases, with the same progression being mirrored in every character, albeit with their own Freelancer-specific rewards. In contrast to regular loot matrices, which contain 3 items, the loot matrices earned through Freelancer Levels contain only one item, which is a cosmetic item specific to the Freelancer. This can be either a Skin, Emblem, Taunt, Banner Background, or (very rarely) a VFX. The progression is as follows:
Level
Reward
Type
4

 2500

Flux

A currency earned through playing games
Used for purchasing the following:

Freelancers
Titles
Banner Emblems/Backgrounds
Skins

Currency
5
Freelancer-specific Loot Matrix
Loot Matrix
8

 2500

Flux

A currency earned through playing games
Used for purchasing the following:

Freelancers
Titles
Banner Emblems/Backgrounds
Skins

Currency
10
Freelancer-specific Loot Matrix
Loot Matrix
12

 2500

Flux

A currency earned through playing games
Used for purchasing the following:

Freelancers
Titles
Banner Emblems/Backgrounds
Skins

Currency
15
Freelancer-specific Loot Matrix
Loot Matrix
20
Freelancer-specific Loot Matrix, unlocking Mastery Skins, Freelancer-specific Title.
Loot Matrix, Skin, Title
Every 5 levels after (25, 30 etc.)
Freelancer-specific Loot Matrix
Loot Matrix