Chapter 3: Waste not, want not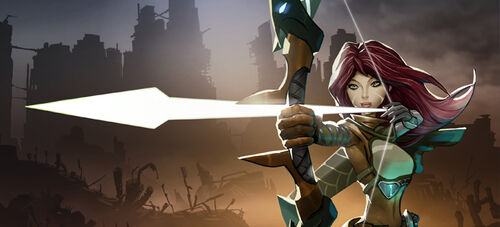 Patch went live on February 21st, 2017
In Chapter 3 we're introduced to the Waste. The areas outside of Atlas are no longer under the influence of life-sustaining Reactors. Living out there is harsh, and people from these areas have become accustomed to these hardships.
Season 2, Chapter 3 is open!
Check out all-new challenges and missions.
New skins are available for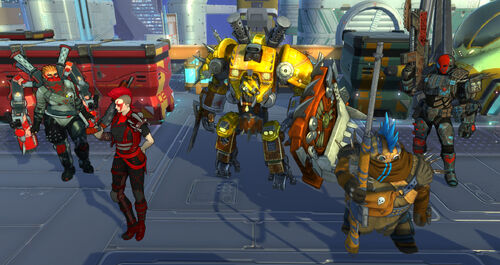 Earn a Music Note Overcon and 10 GGBoosts just for logging in during the event!
New Freelancer

Players can now use 3 GG Boosts in a match (even if they are sarcastically used.)
They still provide 30% bonus for the user each and 10% for each other player. Now a 300% bonus is possible! GG Boosts been reduced in price for purchase. You can purchase them by clicking the GG button on the landing page.
More GG Boosts are now available in the general

Loot Matrix

Acquired through purchasing with real money or earned through season levels/missons
Contains the following types of loot:

Styles
Emblems
Backgrounds
Emotes
Emojis

.
Custom Games Support Draft Mode
You can now select "Ranked" when creating a custom game.
This mode is currently restricted to 4v4.
When all players ready up, you will enter a draft, just like in Ranked.
Now hosting a tournament is even easier!
Note: this is just the ranked style of draft, no rank is actually affected in these custom games.
New Game Mode: Overpowered-Up

This game mode pushes Atlas Reactor to the extreme limits, as players fire off their ultimates with reckless abandon. Deal tons of damage (and healing!) in Overpowered-Up! Overpowered-Up is a variant on our normal deathmatch ruleset. Players gain 20 energy per turn in this mode – a stark difference from the normal 5 energy per turn you get in Standard.
Players will also want to fight fiercely over the power-up spawns! Power-ups have been overcharged, respawning every 4 turns on every map. For an extra twist, every time a power-up disappears the power-up generator can pick a new type of power-up to spawn next time! Keep an eye on the generator to plan ahead for where your buffs spawn!
As if all of the above weren't already enough to keep you on your toes, all player damage, healing, and shielding is increased by 50% in Overpowered-Up! We found this really put the "over" in "Overpowered".
Because life comes at you fast from a 91 damage

Kaigin

ultimate in Overpowered-Up mode, we've also upped the kill count. Teams will race to 8 kills in this mode, compared to 5 in Standard. After 20 turns, if no team has racked up the necessary bodycount, the team with the most points will be declared the victor, just as in Standard. And when you DO die, you'll respawn one sprint away from the fracas, with your position chosen automatically. This is a little less fair than our Standard respawn, but with people dying so often we felt it was important to get them back in the game as fast as possible.
Finally, your character selection in Overpowered-Up is randomized. Free players – this means you can get experience with any Freelancer in Atlas Reactor by playing this mode! We'll even give you extra time to pick your mods and catalysts, so that you always feel like you've got a good loadout for your match. So buckle up, and get ready – Overpowered-Up is coming to pump you up today!
Note: New modes in Atlas Reactor are slotted for the length of a Chapter in a Season, keep an eye out for official dates when this will end!
Helio Corps Skins

With the victory of Helio Corps,

Helio

is issuing brand new uniforms to all Freelancers (whether they want them or not). Due to Helio's strict fashion demands, manufacturing has been slow and not all Freelancers have theirs yet, but more will be issued over time.
New User Experience
New players will now have an updated experience to lead them to 10 games.
Earn rewards at various milestones as you work your way to a free Freelancer!
General
Will Fill characters that encounter a queue dodge are no longer forced to play the character they selected pre-dodge. Players will no longer be forced out of "will fill" when they first get matched into a game... the will fill character will remain until the player chooses what they actually want to play within the game. If you wait too long, though, you will play a random freelancer.
Bug Fixes
Fixed an issue where players could sometimes get stuck on the End of Match screen.
Fixed an issue where team colors could be incorrect in the scoreboard.
Fixed an issue where overcons were not sorting properly. Localization fixes.
Fixed a rarely-occurring bug causing actors' last known position indicators to appear where the actor is, even though they shouldn't be visible.
Freelancer Specific Changes